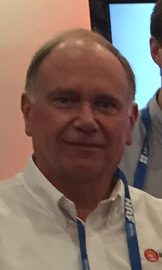 Jeff Riordan has been with Irisys since 2012 and currently serves as Director of Business Development. Tasked with developing and coordinating all aspects of new business, Jeff specializes in collaborating with department heads to ensure customer needs are met and exceeded.
With more than 25 years of business development experience, Jeff was drawn to work for Irisys, because he wanted to be a part of the company's data-driven approach to shaping the in-store experience.
"This is an exciting time for retailers as technology transforms the in-store shopping experience," says Jeff. "By analyzing the results of in-store interactions and foot traffic, big data helps shape store content and promotions, drive dynamic pricing, and even inform inventory management based on demand. Big data insights also aid the creation of more effective visual merchandising, store layouts, and product placement."
Jeff believes the future of in-store analytics is bright and compelling.
"It's an exciting time in the retail technology industry," says Jeff. "As brick and mortar retail stores and online shopping eventually hit their equilibrium point, the need for comprehensive, accurate, real-time and historical data will only become more essential. Retailers that combine the best of online shopping with superior in-store customer experiences will have the competitive advantage. In-store retail analytics is destined to grow in sophistication and value in the years ahead."
Outside of his business development responsibilities, Jeff enjoys sailing, hiking, traveling and playing tennis with his wife, Dawn. Jeff is also a recipient of the Emerson Climate Technologies corporate "Consider It Solved" Award. The award is presented to an individual who has excelled in sales achievement, solution innovation, customer satisfaction and project delivery.