Supermarket Queue Management
Real-time queue monitoring
Nobody likes queueing. They are proven to negatively impact customer experience, basket size and loyalty rates. Our solution fixes this.
Using our industry leading people counting sensors we can quantify queue demand in real-time. We combine this with our vast experience and clever algorithms to also predict future queue volumes and required staffing levels.
These automated alerts to open or close checkouts direct staff to where they are most needed, ensuring customers receive the best experience whilst the checkouts are operated as efficiently as possible.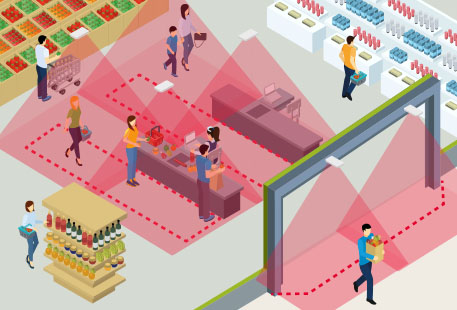 A complete queue management solution
Grocers and supermarkets all over the world use Irisys' supermarket queue management systems to optimize their front end service and, by working closely with them, we have developed a range of innovative tools.
The Irisys Enterprise Lane Management System (sometimes called ELMS for short) reports the key analytics at the heart of the queue management solution.
It gives you the ability to monitor checkout performance in near real-time which enables you to measure of the impact of new initiatives, calculate ROI, identify areas for improvement, and compare across stores, regions, or countries.
ELMs gives you an objective measure for fact-based decisions on staff scheduling. It makes big savings possible, whilst at the same time improving customer service and satisfaction.
One of our most innovative queue management software systems, the predictor tool gives checkout supervisors a chance to prepare for anticipated increases in demand for checkouts, based on data from around the store.
It enables new lanes to be opened to cope with imminent increases in demand, and gives advanced notice so that staff can be redeployed from checkouts to other tasks.
It allows stores to make the most out of a small workforce, and means that customer waiting times can be massively reduced.
The store data system acts as a hub for all the hardware and software within the store.
Information is can be displayed via a browser based dashboard, via a display in-store, or sent out to hand-held devices for staff to be alerted to developing situations.
It gives flexible access to data at all levels of staff hierarchy, and many stores also use the display to give customers updates about waiting times, improving the customer experience.
The lane scheduler tool gives managers a chance to anticipate their staffing requirements weeks in advance.
Based on past data and the best estimates of future traffic, lane scheduler helps you to plan the number of staff members you will need and their deployment patterns across the store.
This gives management teams a structured approach to scheduling whilst enabling labor cost optimization and improving customer service.
Queue management success stories
Irisys are people counting experts
10billion+
people counted annually
500,000+
sensors deployed globally
Need more information? Ready to get started? We're here to help, get in touch.