The smart building landscape keeps growing, and so too does the range of Internet of Things (IoT) devices that make all things "smart" happen. Encountering a workplace occupancy sensor in a modernized or refurbished building isn't quite the novelty it used to be.

Over the past twenty years, Irisys has deployed over 500,000 people counting sensors worldwide. These devices are perfect for measuring workplace occupancy, and our vast experience proudly positions us as a global leader in quality, customer support, and innovation.

Facilities managers and stakeholders recognize the benefits and value that accurate occupancy monitoring provides – especially when the data is presented in a practical analytics dashboard and made easily available for use by other building systems. Insight into how a workspace is used enables more agile infrastructure, better space utilization, and, of course, significant cost savings.

There are many ways in which workplace occupancy sensors can help you transform an office space, improve employee productivity, enhance meeting spaces and create a better workplace experience. In this article, we answer the critical questions that may help you understand how workplace occupancy sensors work, their particular applications, and what occupancy monitoring and data can do for your organization.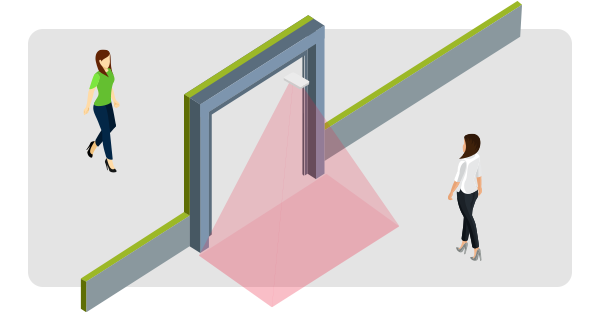 How does an occupancy sensor work?
An occupancy sensor will detect movement and changes in the environment. Each type of sensor technology does this in a different way – we explore this a little further down in this article.

Advanced occupancy sensors, such as our people counting sensors, only need to be installed in strategic locations where people are moving from one area to another, such as an entryway or exit. The data collected from the device is sent to a cloud-based platform where AI algorithms are applied to calculate real-time occupancy and utilization levels. This data can then integrate with other IoT devices or building management systems.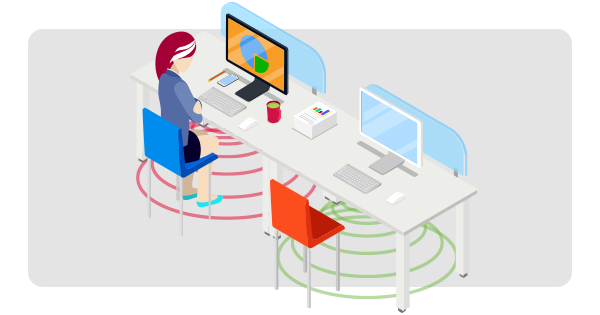 Where are occupancy sensors required?
Occupancy sensor technology is highly relevant and applicable in scenarios where monitoring and understanding occupancy and space utilization are essential to the growth and development of your organization.
If creating people-centric office spaces is a high priority, along with cost savings, reduction in emissions, and improved workplace experience for employees, then this type of technology will continue to play a pivotal role in these initiatives for years to come.
More specifically, occupancy sensors can be deployed in meeting rooms, cafeterias, washrooms, corridors, and larger spaces such as open-plan offices and under desks.
Thanks to workplace occupancy sensors, you can rely on real-time data to help you make better decisions for the management of your commercial real estate. Whether you're looking to consolidate space or enhance the functionality of specific premises, occupancy monitoring IoT sensors could help you mobilize and optimize your improvement efforts.

Can occupancy sensors improve workplace hygiene?
Workplace occupancy sensors help you create maintenance processes that make comfort and safety a priority by asserting your commitment to creating a comfortable work environment where hygiene is visibly prioritized – data reveals that this is a significant factor for employee retention and job satisfaction among 70% of workers.
In the past, people may have taken a more relaxed approach to the inconvenience of a slightly grubby office kitchen or washroom, but the modern employee is far more scrutinizing when it comes to hygiene.
Workplace occupancy sensors help you keep an omnipresent eye on all high-traffic areas throughout your building. This approach also allows you to put mechanisms in place that stagger footfall to prevent a breach of capacity limits. Occupancy sensors collect data to help you build a clear picture of utilization, allowing cleaning and sanitization activities to be scheduled based on the frequency of use – a far more effective model that ensures high-use facilities receive adequate and timely attention.
When selecting an occupancy sensor technology for this purpose, it's important to choose a device that guarantees anonymity while providing a high level of accuracy – this approach immediately puts any employee privacy concerns to rest.
Facilities teams can then make data-based decisions about everything from the volume of supplies required to how often and how big a team needs to be sent to the site to ensure optimal upkeep of your building's facilities.
How can occupancy sensors enhance collaborative spaces?
Collaboration and discussion are essential business activities. According to studies, face-to-face interactions are 34 times more successful than emails. Although virtual experiences are here to stay, the necessity for face-to-face human interaction will never disappear. This means meeting spaces, conference rooms, and collaborative areas must be equipped for maximum utility without exceeding capacity limits which can compromise the quality of the workplace experience.
Real-time and historical occupancy data can help workplace managers make informed decisions about space utilization based on actual occupancy levels.
An easy way to significantly improve space management is to automate the meeting room booking process – this will require accurate data collection, giving employees the ability to find and access a facility that best suits their purpose without physically going to the location.
Industry insiders foresee a more simplistic take on face-to-face meetings of the future with a focus on purpose and efficiency for in-person gatherings. Occupancy sensor data can enable effective monitoring of space utilization to prevent overcrowding and support property teams in right-sizing meeting rooms to suit employees' needs, enhance user experience and support business objectives.
From maintenance to heating and ventilation, occupancy sensors can align with other systems and IoT solutions to minimize disruptions and save money for your organization. This is because resources and other operational activities can be allocated in direct response to how many people actually used a specific facility.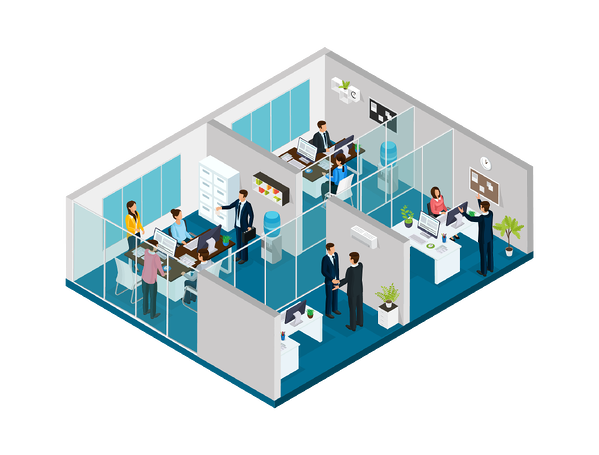 How do desk sensors optimize your office space?
Over the past few decades, the open-plan office has become the preferred layout for many employers. Often, this means shared workstations and hot desks. As flexible working patterns become more common, it's important to consider how this will affect the modern office environment.

In a typical work week, employees may book workstations with the intention of coming into the office, but if plans change or the desk isn't utilized for the amount of the time it was originally booked for, how will other individuals know that there is, in fact, available space since the booking system may not be updated with this information?

Desk occupancy sensors can give employees the freedom to book free desks and workstations in advance before journeying to the office. The desk can automatically be marked as available if there is a no-show or the person leaves early. The result is a more streamlined experience that enables maximized utilization and maintenance of these facilities.

Surfaces and shared technologies such as telephones and keyboards should be disinfected after each use if you operate a hot-desking model. Desk sensors can automatically feed usage information to the relevant systems and dashboards, alerting cleaning teams and speeding up sanitization, ensuring rapid availability of the workspace for the next employee.

Furthermore, over time, workplace managers can gather enough data to determine whether current resources adequately serve the needs of employees; this can be used when making proposals for larger spaces, adding/removing desks, or making a change to the layout.

Should the implementation of social distancing become a necessary move in the future, workplace occupancy sensors can be used to flag any congestion issues or bottlenecks throughout the office space. Proactive measures can then be taken to control movement around the office and guide employees to the best-suited workstation for their needs.
How to select the right sensor technology
Before choosing and deploying an occupancy sensor solution, it's important to determine your purpose. Here are some questions that you and your team can work through:
What problems are you trying to solve with occupancy data?
What occupancy and utilization metrics do you need to capture to provide answers?
Do you need real-time occupancy data or just historical?Will the sensor technology need to
integrate with other IoT devices and systems?
Do you need to consider employee privacy?
Asking these questions will help give you a more purposeful approach to reviewing occupancy monitoring solutions. Keep in mind that not all space occupancy monitoring devices have equal capabilities and that the credibility of the manufacturer and the support offered are just as important as the price. Here are some of the occupancy monitoring sensor solutions you are likely to encounter:
Passive InfraRed (PIR) Sensors
A passive infrared (PIR) sensor is the most basic type of occupancy sensor. It detects movement in its field of view and reports a simple "occupied" or "unoccupied" signal. These sensors are often battery-powered, enabling rapid deployment. They are an ideal technology for a desk sensor, or a small area that is typically only used by one person.
Bluetooth Proximity Sensors
If knowing the exact location of each employee is an important consideration for your business, a Bluetooth proximity sensor can help you pinpoint individuals throughout large office spaces. Workplace managers can use this real-time data to optimize office spaces and maintain social distancing if this continues to be a requirement. It's important to note that the utilization of this type of technology is dependent upon the culture within your company and whether individuals are happy to be monitored this way.
Imaging sensors
Imaging sensors are typically video-based devices that use cameras to capture video footage that is processed and interpreted by computer vision. An imaging sensor will measure occupancy in a predefined area, and they are also useful if you want granular utilization data, such as understanding how many individuals are in a particular zone.
Time of Flight Infrared Sensors
Time of flight infrared sensors are similar to imaging sensors; however, rather than using a video camera, they are completely anonymous, only using invisible infrared light. AI onboard the sensor interprets the infrared light, learns its surroundings, and detects changes when people pass by. These advanced sensors can provide high-quality data with superior accuracy, showing occupancy levels and space utilization without compromising privacy or anonymity. This is, in fact, the technology used in Irisys people counting sensors; our ceiling-mounted devices build a layered 3D image of what is being observed, making it possible to distinguish between objects and humans without picking up on any personal identifiers.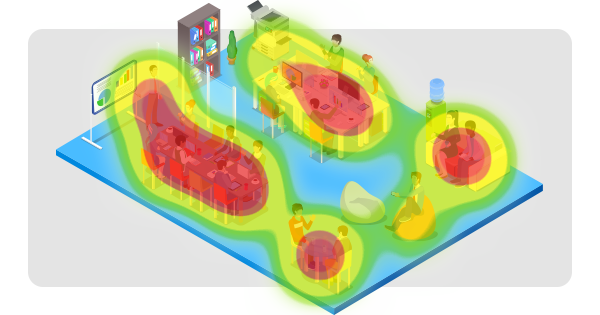 The ultimate benefit of occupancy sensors in the workplace
The right occupancy monitoring solution is an investment that will continue to pay returns in the long term. The simple fact is that we live in a world that increasingly demands data to ensure that the actions and decisions made are effective in regard to budget and outcomes.

An occupancy sensor will offer real-time data that is immediately useful in a variety of ways, from hygiene to space utilization, to ensuring vital resources like electricity and water aren't unnecessarily wasted in unoccupied areas.

Giving workplace managers visibility over the dynamic environment that is the office space enables informed decisions that deliver impactful and meaningful outcomes for the people that use your facilities every day. As a result, employee productivity, job satisfaction, engagement, and even health can improve.

The workspace landscape is evolving against the backdrop of economic and social changes that will continue to force leaders to find agile and flexible ways to adapt office spaces for optimal utilization while considering the environmental and cost implications of each decision. Data and insights provided by occupancy sensors will vastly improve the efficiency of buildings to ensure that they remain safe and welcoming places for employees. Human interaction remains a vital part of how we live and work; by managing occupancy and using the available technology we have at hand to create smart buildings, businesses can continue to operate without compromising their most significant asset: people.
Book a free live demo
If you'd like a free live demo to see the True Occupancy sensors in action, schedule an appointment with one of our experts today. We'll demonstrate how our sensors can help you create a workplace that's highly optimized for your present and future needs. We'll discuss the patented technology and AI we use to make one of the industry's most trusted people counting solutions while also looking into your particular requirements and seeing how Ture Occupancy can make tangible improvements to your office space.