With all companies slowly opening back up following the Covid-19 lockdown, the challenge for office-based organisations has been how to keep their employees safe.
There are several things most workplaces, across all industries, have adopted, for example:
Implementing one-way systems
Separating or removing desks
Removing chairs from meeting rooms to reduce capacity
Creating hand sanitiser stations
You're probably implementing these measures as a minimum, but there are a range of more sophisticated solutions that you may not have considered for tackling the current challenges, as well as the challenges that will arise in a post-Covid-19 world.
Proximity alarms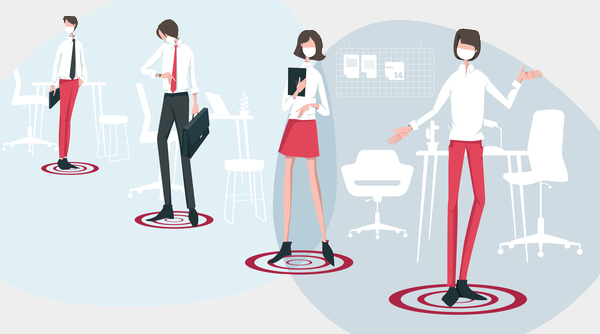 The guidance on social distancing may be clear (maintain at least one metres distance from others), but this becomes increasingly difficult the more employees that are in the office. As time goes on, your staff's adherence to the guidelines might become more complacent.
This is why proximity alarms are being used by some organisations looking to enforce social distancing more effectively. Both Antwerp port and the Ford Motor Company are testing wristbands that warn the wearers when they get too close to someone else. Importantly for the privacy issue, these devices do not share location information, only communicating with each other.
Social distancing requirements are likely going to last well into next year, so it's important to consider solutions that can make this easier for the long term.
Change attitudes to remote working
Although many organisations were warming to the idea of remote working, either occasionally or permanently, Covid-19 has forced this onto all those where it was possible.
Offices may be opening back up, but many still won't be in a position to welcome every member of staff back, without breaking social distancing guidelines. With this in mind, it will be necessary to extend remote working and change any attitudes to it only being a temporary solution.
But what will this mean?
Reduced requirements for office space and changes to layouts will lead to less capacity for onsite working, while no client or large internal meetings will be taking place for the foreseeable future. Digital solutions such as Zoom and Microsoft Teams have also made communication much simpler.
Looking ahead to a post-Covid world, it is also worth considering how the lockdown has shifted the expectations of employees. Many people who have gotten used to a healthier work-life balance and more family time will be hesitant to go back to long commutes, having to attend meetings all around the country, and long hours spent in the office.
A more relaxed attitude to flexible and remote working will be important for hiring and retaining the best talent in the future.
'No hands' technology
Common employee 'touchpoints', such as light switches, toilet flushes and taps, will be a serious infection risk for offices, and even an extremely thorough cleaning and hygiene regime won't necessarily be enough in high traffic areas.
That's why 'no hands' technology will be so important moving forward - and occupancy sensors will play a big part in this.
Predictive sensors can allow an employee to move through a building without having to touch door handles or lift buttons, while a smooth and efficient access control system will be vital to ensure visitors and staff don't get stuck in certain areas.
Lighting is another area where smart building technology can significantly reduce required touch points, detecting when a room is occupied and, if necessary, turning on lights automatically.
Unsurprisingly, washrooms could be breeding grounds for Covid-19. Did you know that a flush handle can contain up to 83 bacteria per square inch? Movement sensors on toilets isn't a new technology, but a low-tech alternative that still helps to keep employees safe is the foot-flush toilet.
Temperature checker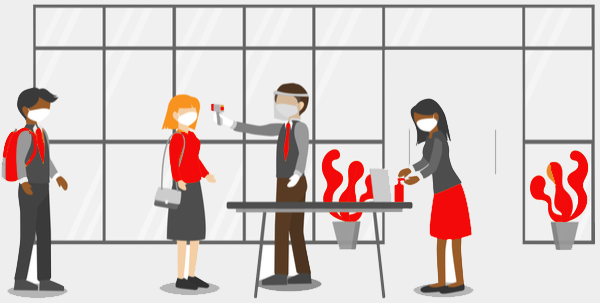 One of the most common Covid-19 symptoms to look out for is a low grade fever.
It's essential for sick employees to stay home, which is why some organisations are using thermal cameras to identify people with an elevated temperature. Chinese-based startup Rokid has even developed thermal glasses that use an infrared sensor to detect the temperatures of up to 200 people within two minutes.
Full body sanitation
A 'disinfection booth' is currently being trialled at Hong Kong airport that claims to be able to kill all microbes, including coronavirus, in just 40 seconds.
Another full-body unit has been developed by an Indian company. The unit senses when a person enters and sprays disinfectant for 10-15 seconds.
UV cleaning
You might not be able to get UV light 'inside the body', as one well known world leader suggested, but ultraviolet light is an effective germ killer.
In 2018, research conducted at Columbia University found that overhead UVC light bulbs killed 'airborne flu viruses without harming human tissue'. If it's able to do the same for Covid-19, UVC bulbs, UV sanitiser wards and personal item cleaners like 'Phone Soap' will be well worth investing in.
An added benefit is that UV lights are clearly visible measures for employees, helping to make sure they feel more confident coming back into the office.
How SafeCount can help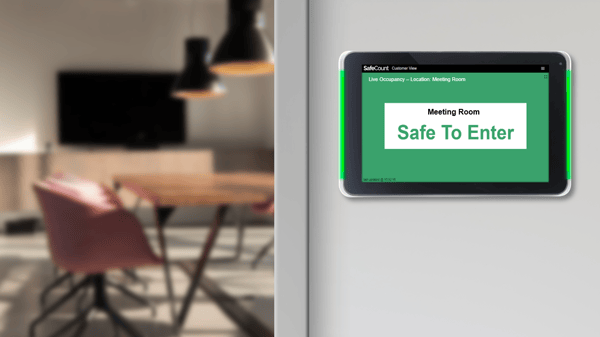 Our SafeCount solution can help your corporate office adjust to the challenges of a post-Covid-19 world in a number of ways.
First of all, SafeCount monitors occupancy levels to make enforcing social distancing easier in meeting rooms, washrooms, canteens and collaboration spaces. SafeCount can also report the real-time occupancy of particular areas, departments or floors, offering benefits not only during the current crisis, but looking forward to the post-Covid world too.
With more of your employees working remotely, it's possible that you'll require much less office real estate than before, and SafeCount can also help you identify space utilisation opportunities here.
Finally, your staff might be unsure about this level of additional monitoring, and concerned about the impact of occupancy monitoring on their privacy. However, SafeCount collects no personally identifiable information, anonymising all of the data it provides.
This will be an essential consideration for corporate offices to make for the long term, so do not make the mistake of investing in occupancy monitoring that doesn't protect anonymity under the guise of contact tracing. There are alternative solutions for contact tracing that can be implemented - it shouldn't be your occupancy monitor doing that work.

Click here to find out more about SafeCount and how it can ensure your office is prepared for tackling the current crisis, and is set up for a post-Covid world.