The manufacturing sector, like many others, has been affected by the strain of the COVID-19 pandemic. Although the industry already adheres to stringent regulations and has largely been able to continue operating throughout the crisis, few have managed to keep functioning at full capacity. Industry leaders and employees have welcomed the easing of lockdowns and the prospect of a return to regular activity, but not without concern for the challenges that a post-pandemic world presents. Both employers and workers are now prioritising the following issues even more:
Health and safety on site

Maintenance of new social distancing measures

Hygiene in shared spaces

Protocol for a response to future infectious breakouts
Manufacturers are looking for ways to resume or increase productivity without compromising the health and safety of their workers, maintaining a reputation as safe and people-conscious places of employment. What's more, any newly introduced plans need to be flexible as more regulations or adjustments are likely to come into place.
People counting technology offers a comprehensive solution for many of the challenges that the industry will be looking to tackle. Access to accurate occupancy data will help management teams to implement and oversee any new measures with confidence, ensuring that hygiene standards are not only maintained but improved, and that social distancing guidelines are adhered to consistently.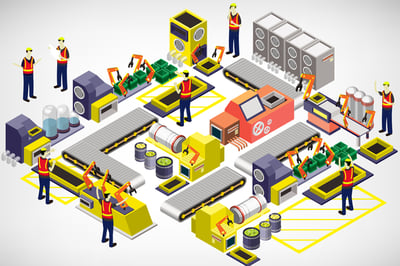 Successful social distancing
The health and wellbeing of employees is top of mind right now. In manufacturing facilities, that means creating enough space for employees to work and get around the plant while allowing for sufficient social distancing. Habitually, many of us are still used to standing in close proximity to one another and often lack the intuitive awareness that is required. High traffic areas like receptions, canteens and washrooms pose a significant risk as both employees and guests are likely to congregate in these areas.
People counting sensors can observe footfall in real time and help decision-makers to identify any problems with floor plans or spacial limitations. A proactive approach can then be taken to control the number of occupants in these areas at any given time and optimise the floor space so that congestion doesn't occur.
People counting technology can help facility managers to track footfall throughout the whole building; while specialised alert screens and display signage can inform occupants when capacity limits have been reached in a specific zone, automating occupancy control. All entrances and exits can be monitored so that your team always has a clear overview of how many individuals are in one area.
Boost hygiene efforts
While many factories have to comply with a host of regulations when it comes to hygiene, COVID-19 requires all of those efforts to be amplified.
Canteens, washrooms and workstations will now have to be cleaned more frequently, and close attention will have to be paid to the number of times these areas are used. This may mean that production has to be paused at specific times in the day to allow cleaning staff to disinfect high contact zones. Of course, this may be a costly and time-consuming exercise to keep up, one that is particularly challenging for factories that operate within tight schedules and shift patterns.
A people counter can give you accurate insight into these high-usage areas and help you to make your cleaning rotas more efficient. For example, if an area hasn't been used all day and a minimal number of occupants have been in the zone, a deep clean may not be required.
Optimise the production floor
Manufacturers are always looking for ways to make the most of the space they've got. It's not only crucial for efficiency, but these efforts also create a better working environment for your employees.
Footfall data from people counters allow you to see where areas can be optimised by bringing awareness to underutilised workstations or zones. Your management team can use the data collected from people counters to tackle any bottlenecks in the floor plan, make safer one-directional pathways between stations or machinery and enhance the available space on site. From a technical perspective, you can also observe the frequency with which machines get used by workers and schedule routine maintenance before issues arise.
Implementing safety protocols and installing an occupancy monitoring system will help manufacturing facilities ramp production back up while keeping workers safe. Whether your facility is moving through the phases of reopening or returning to production levels prior to lockdown, pivoting and changing plans is going to be necessary. Let the Irisys SafeCount occupancy monitoring system help you resume production, improve health and safety, and assure employees and regulatory bodies that your site is prepared to operate and thrive in the current climate.
Find out more on how SafeCount can help resume production by clicking below.