Estate Manager from Irisys is a powerful software tool for installing and maintaining your network of analytics instruments from all around the world. Available for Gazelle and 3000 series detectors, everything can be administered from a central location, giving you fast and effective support where and when you need it. Irisys Partners are already successfully using Estate Manager for thousands of devices worldwide; read our Coretech User Experience Case Study to find out more.
As an integrated platform of device management tools, Estate Manager offers powerful capabilities:
Comprehensive at-a-glance monitoring of device conditions across your network

Device configuration and audit

Checking device connectivity

Dynamic error and diagnostic monitoring

Schedule automatic backups, and other tasks

Carry out firmware updates and downloads

Highly scalable and stable

Reduce your running costs with Estate Manager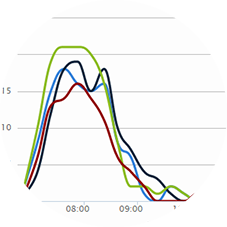 Estate manager enables you to carry out a lot of your day to day maintenance and analysis tasks remotely, allowing you to centralise your support and administration to one location, even if you operate a worldwide network.
It also means that you can analyse problems without having to arrange costly field inspections, instead instantly logging in to your device directly and getting it back to working condition quickly.
The system also makes installing Irisys devices much simpler, allowing you to save time by carrying out configuration and setup tasks remotely.
Estate manager means that you can make huge savings of time and effort over conventional methods of installation and operation of analytics systems.
Flexible Management
Estate Manager puts all of the analytics generated by your network of devices right at your fingertips, giving you the ability to make detailed comparisons across your estate, monitor individual sites and even to look at the data generated by individual detectors. Whether you want to manage your analytics across one location or thousands, Estate Manager is fully scalable.