How does People Counting benefit Retailers?
With competition from traditional bricks-and-mortar retailers, online stores and everything in between, today's stores need to make the most of every customer that comes through their doors. Without a clear idea of shopper behaviour and conversion rates, retailers are forced to make business strategies that don't take into account key facts about their customers. Accurately measuring footfall and using this to generate detailed retail analytics is at the core of what we do.
Understand your customers
Data from Irisys people counting systems reveals just how many people visit a store, how many convert into customers, identify areas of the store with high footfall, and correlate these against staff scheduling and marketing campaigns.
Find your winning conversion formula
The information generated by measuring footfall for retailers helps your store teams to make the most of their sales opportunities and schedule their time as efficiently as possible. Identifying your most successful selling techniques and rolling them out across multiple stores, as well as analysing individual stores, becomes easy.
Get a consistent measure of customer engagement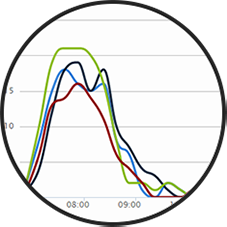 Delivering real-time information on customer numbers and movement throughout the store, Irisys people counting systems can give you an accurate assessment of the footfall across your whole store network, and show which stores are making the most of their opportunities.
Assign staff deployment to demand
By measuring the footfall in your stores at different locations and times of day, you can find the best places for in-store displays, and make sure that staff schedules accurately reflect the demand by customers. By reducing the time your staff spend where they aren't required and re-deploying them where they are, you can make cost savings and create a better experience for customers and staff.
To find out more about people counting for retail, please don't hesitate to get in touch with our experienced team.