Facts don't lie, and retailers are surrendering to this reality. Objective footfall measuring has been found to be the most reliable way to predict buying behaviors. People hate standing in queues. Everyone knows this. People counting collects information that is important for those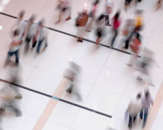 seeking to change the behaviour of customers in a manner that increases sales.
Shopping Behavior Analysis Insights
Detailed analysis shows that 70% of all purchasing decisions are made in-store.
Behavior studies indicate 6 individual modes of shopping. Each person has subtly different sets of requirements in-store
Shopping is significantly influenced by habits, conditioning and culture.
Most aspects of shopping are clustered into single-scripted behaviors.
Many shopping activities are as automatic as shaking hands or folding the arms.
Without emotional influence--working memory deletes and forgets information in less than 18 seconds.
Shoppers use multi-sensory cues to evaluate, select or reject products.
There are ranges of unique research methodologies including: filming- based shopping behavior analysis, interviewing techniques and unaccompanied shopping analysis.
All these methods are employed to provide the best research solutions through meaningful analysis. This comes from ensuing the best raw data from shoppers to carry out highly detailed specialist analysis.
When combining store traffic people counting with sales data, the result is an objective measure of true store performance: getting the percentage of store visitors who are converted into buyers.
With shops, or shopping centres-- percentages represent clear understandings of the sales opportunity and conversion rate within each store, providing an objective approach to managed performance and benchmarking.
Implementation of people counting systems is increasingly commonplace. Especially when dealing with a store or shopping area acquisition: store performance questions are answered objectively and quickly.
Instant Critical Information
People counting solutions inform immediately--usually via alarm, when a predefined maximum number of people have entered the monitored area, which allows prompt actions to be taken.
When store counting alarms are triggered, store assistants are sent to serve the customers; in airports when a queue for an airlines has become too long, security gets an alarm, and new customer care lines are opened.
Even clubs employ people counting strategies. Alarms announce when the maximum occupancy has been reached, and doors are closed to the public to avoid risk and fines.
People Counting Reveals Crucial Business Performance Information
The people counting reporting system can answer complex questions such as:
Which stores perform to expectation?
How many people visit the store each day? When do they come?
How do we improve the reliability of forecasts or schedules?
When is it best to schedule back-office activities for employees?
Which advertising initiatives are the most effective in delivering increased traffic?

Counting Systems Show Shopping Patterns-Best Use of Employee Time

Simple and intuitive people counting systems provide accurate profiles of shopping patterns used to efficiently schedule employee rotas and organise media advertising or promotions. This improves customer and employee satisfaction and sales.They improve marketing performance, whilst minimising labour and marketing investment.

People counting solutions can be applied across all stores in a chain-- or in a shopping centre. Significant impact is seen as it enables creation of operational policy, helping develop best working practices. Optimise sales opportunities, store performance, labour usage or marketing expenditures.

Real-time people counting dashboards are also available to provide local-direct reporting. Dashboards are associated with multiple sensors per site as well as multiple sites.

Real-time data direct from sensors deliver various graphs on daily or weekly traffic data and also predict daily traffic based on historic trends. People counting has become integral to store performance management.
Infrared people counting technology is highly accurate and can be installed over fixed network installations or using IP technology for retailers.