Do Retailers have the processes in place to support and deliver their checkout service promise?
In the first article, we talked about the overwhelming evidence that a better and faster checkout experience contributes heavily to shopper's overall satisfaction with a retailer and that by creating this experience, a retailer can differentiate themselves from their competitors. In the second article we discussed the need to first understand your current service level and the effort required to achieve your desired service level before making a service promise. This article – the third in the series - focuses on implementing your strategy and the process changes required to ensure it is maintained and consistently delivered.
Steps to delivering a front end service strategy
Whether the Retailer's service promise is a commitment to a specific wait time or queue length, or is more vague – like 'fastest service in town', a support system must be put in place to ensure that promise is consistently delivered. Our experience has shown that 3 basic components are required –
On-going communication to all associates (not just those at the front end) of the service strategy, how they are performing against the service objective, and each associates' role in delivering on that promise
A measurement system that provides continuous monitoring of the service level being delivered – one that can be used by Store Management and Front End associates to proactively manage the front end, identify issues, take any needed corrective action, and optimize cashier labor
Implementation of certain Front End Best Practices
Communication of the service promise
A check-out service strategy can only work if associates are aware of it. Communicating the strategy to associates takes planning and on-going training. Continuous reinforcement is required in order for it to stick. Retailers known for great service generally have spent many years building a 'culture of service'. Associates are indoctrinated into this culture from day one of their employment, and it is incorporated into all aspects of their training and daily communication with management.
Once the check-out strategy is determined, a communication plan is needed that clearly states the strategy and clarifies how each associates' role contributes to executing that strategy. It is also important to regularly communicate to all associates how they are performing against the service objective.
Measurement System to monitor delivery of the service promise
The Irisys Queue Intelligence™ management system provides continuous, 24-hour measurement of queue lengths, wait times, cashier utilization, under and over staffing and other key metrics. The system has a real-time dashboard that shows the status of the front end. It provides end-of-day reporting that shows service levels by time of day, which can be used to identify trends, adjust labor schedules and train Front End associates. There is also a Till Profile that can be fed to the Retailers workforce management system. The profile provides a forecast of the number of registers needed by time of day to meet the service objective.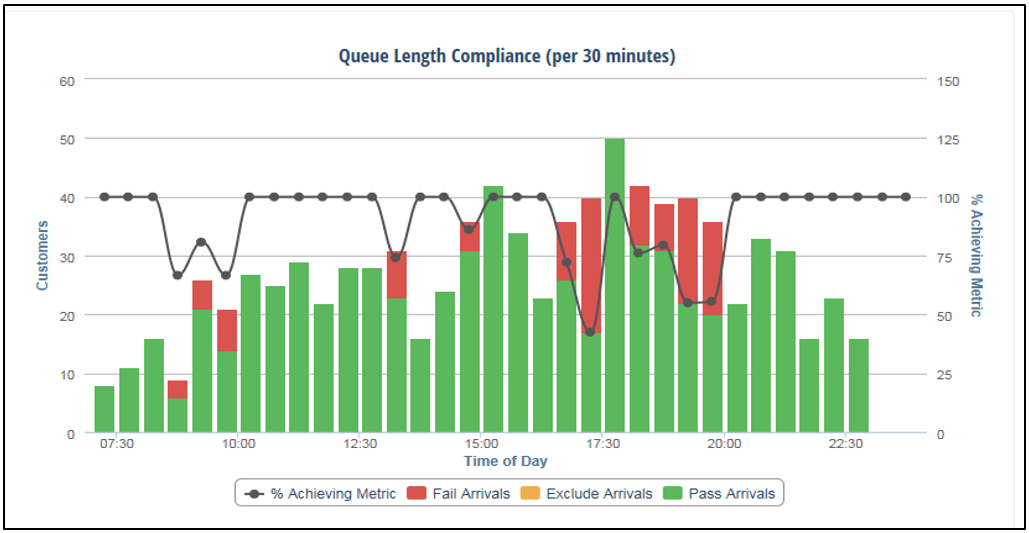 This is one output of the Irisys system. It shows
the arrival rate of customers at checkout by time of day
the number and percent of those customers that received service according to the retailers promise (green) and
the number of customers that didn't receive service according to the promise (red)
Front End practices to support the service promise
As we worked with retailers around the world, we identified several key practices that support delivery of the service promise without using excessive labor. They are listed here; we'll elaborate on them in a future article.
Assign someone to manage the Front End and make sure that this person is properly positioned

Physically positioned to properly monitor the Front End
Having the 'positional' authority to call for relief cashiers from other departments

Have a documented plan for handling unexpected peaks and valleys in customer traffic

A

prioritized

list of associates that can be utilized as cashiers during peak traffic
A list of value-added tasks that Cashiers can perform when not needed on the registers
A daily list of fixed tasks that the Front End Manager is required to complete during his or her shift

Make providing good customer service on the Front End the responsibility of the entire store. Make sure labor contracts are flexible enough to permit various job roles to fill the Cashier role as needed.
Ensure that policies and practices don't allow or encourage sick call abuse and are designed to minimize the impact of unplanned absences on customer service.
Keep the Store Manager involved and responsible for meeting the customer service objective –

Tie the objective to the Store Manager's performance review and/or compensation
Require a daily meeting to review yesterday's results and today's challenges and plan

Design self-check-out practices to improve customer satisfaction on the staffed check-out lanes
Keeping your service promise takes communication, on-going measurement and correction, supporting processes and continuous reinforcement. The benefits, however, are tremendous and have been proven by the success of retailers known for reliably delivering great customer service.