As stores, restaurants, and public venues around the world reopen, raising and maintaining people's awareness of personal health practices like wearing masks, washing hands, minding social distancing, avoiding overcrowded spaces, and more, becomes vital in promoting a safe environment. Remotely manageable digital signage is perfect for businesses to share the latest health and store information in creative and informative ways.
IAdea offers a range of Irisys SafeCount™ compatible signage options suitable for door-side occupancy alerts to wall-mounted announcement displays. These panels can be configured to just display the current occupancy status, or they can be segmented to display the occupancy status alongside health and safety reminders, management announcements or all kinds of other notifications.
Here are a few easy to deploy solutions:
Entrance Signs with 10-Inch Signage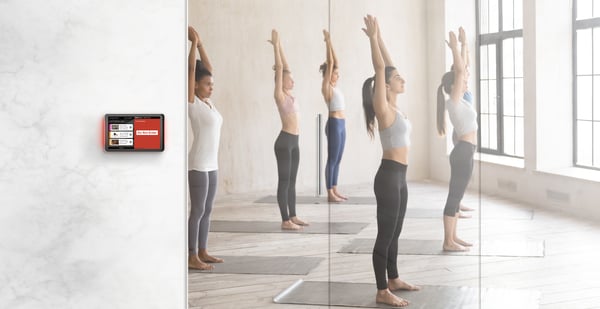 For applications looking to deploy occupancy monitoring displays by entrances and on countertops, the small form factor of the IAdea 10-inch signage is easy to install. While displaying eye-catching occupancy or public safety-related warnings and alerts, the built-in peripheral LED light bars also provide immediate status updates from afar.
Hallway Signs with 15-Inch Signage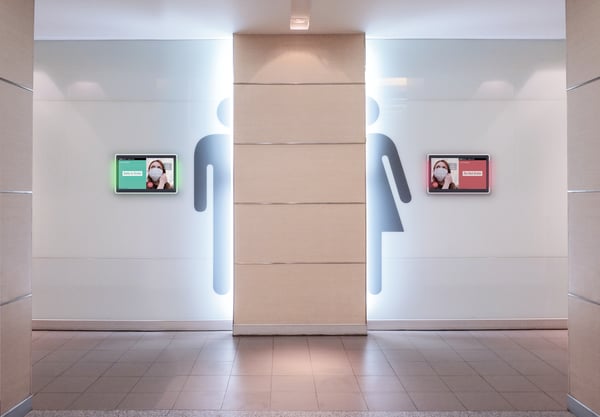 As public spaces reopen, shared facilities like washrooms become hotspots for overcrowding. The IAdea 15-inch signage is a balance between being a compact display that is easy to install and able to present multiple sources of information simultaneously. In addition to showing a "Safe to Enter" status for a public washroom, the same screen can show public announcements, health alerts, and other notifications, side by side. The 15-inch also has built-in peripheral LED light bars to broadcast occupancy status at a distance.
Floor Signs with 22-Inch Signage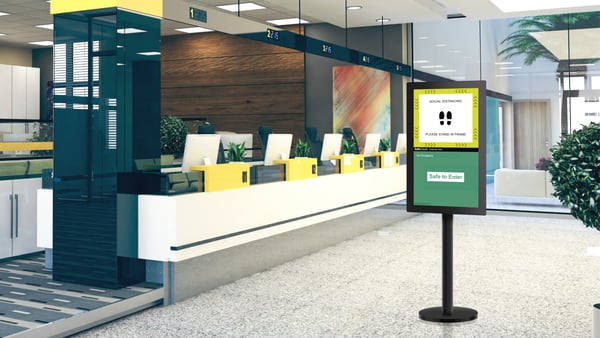 Another type of public space that requires occupancy monitoring and foot traffic regulation is waiting-area like lobbies, corridors, and foyers, which are common in banks, clinics, centers, businesses, and many critical institutions. Facilities can choose from deploying standalone kiosks with IAdea 22-inch signage to display information throughout the floor space or IAdea signage players to power large synchronized screens and video walls for mass information broadcasting.
Remotely Manage All Signage Content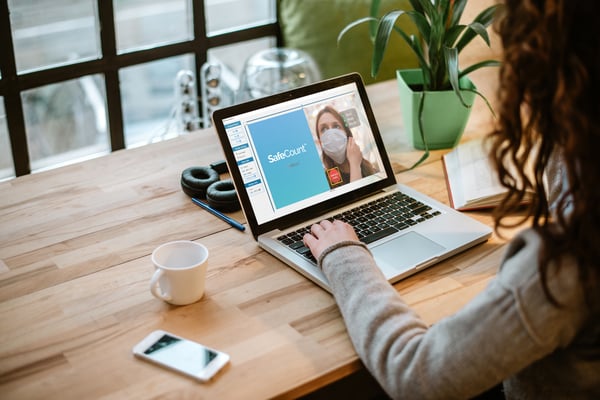 With new information, announcements, and updates to publish every day, IAdea SignApps Express keeps creating and deploying customizable signage templates easy and fast. The user has the option to segment the screen into multiple sections and assign different sources of content into each section. While occupancy status displays on a quarter of the screen, the other three quarters can play advertisements, management announcements, health and safety reminders, and all kinds of unique content.
Get Started with SafeCount and IAdea Display Signage
SafeCount by Irisys is a real time occupancy monitoring solution that delivers live occupancy data with visual warnings and alerts when limits are approached or exceeded. Designed to help businesses keep employees and customers safe during the current pandemic, SafeCount uses advanced people counting sensors and is a fast and cost effective way to measure occupancy.
By combining SafeCount with IAdea display signage you can smartly keep building users informed and enable them to socially distance, find out more here.
Are you looking to evolve your workplace to improve your employees' experience when they return? Download the 'Using occupancy data to re-engage employees with the workplace' guide to find out more.