After months of employees working from home where possible, organisations across a number of industries and sectors are having to plan for people returning to the office. This reopening strategy will need to consist of making social distancing guidelines easy to follow, especially in high-traffic areas, as well as put in place measures to increase hygiene to prevent the spread of germs.
The importance of this will be crucial for employers to demonstrate that appropriate measures are in place to help protect employees and ease their anxiety about the return. As research reports 44% of workers said they were anxious going back to work because of the health risks posed by Covid-19.
To help employers implement these measures they can adopt the use of an occupancy monitoring system that counts people and displays whether it's safe to enter an area based on occupancy limits set in the following areas:
High traffic areas
The areas where your employees are likely to feel most concern about, and where occupancy monitoring can bring the most value, are high traffic areas. For example, reception, canteens and break rooms, and washroom facilities. SafeCount™ can help in all of these environments.
Reception
An occupancy monitoring system can turn your reception and main lobby into one of the most important areas of the building. An occupancy sensor installed at the front door will count people as they enter and leave the building, while mounted screens can indicate whether or not it's safe to enter the building based on occupancy, as well as which floors aren't yet full (based on capacity of each floor/room).
This real-time overview of which floors are busiest, and indeed whether it's safe to enter the building at all, provides reassurance to employees and also arms you with the data you need to keep them safe.
Canteens, break rooms and restrooms
Shared spaces such as canteens and break rooms will be some of the highest risk areas of your office. Again, the use of an accurate occupancy monitoring system will be crucial here to ensure these areas remain safe.
Not only can you assess the number of workers in the different spaces and indicate when the area is safe to use through a mounted screen, but information on when these rooms were at their busiest helps cleaning terms know when they need to go to work.
This is particularly effective for restrooms. Rather than require your cleaning staff to work to a set schedule, they only need to attend when use has hit a specific limit. This not only helps to ensure they're hygienic, but also makes more efficient use of their time - which is more important than ever.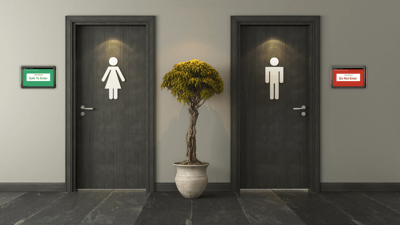 Workspaces
The guidelines currently state that people should remain at least one metre apart, but in enclosed settings for longer periods of time, to keep your employees safe you'll probably want to enforce a larger distance - and it's likely your employees will want that too.
Once you have defined those limits based on each floor or room's capacity you can use occupancy monitoring to ensure this isn't exceeded. All of this data can be leveraged to help employees identify the best floor for them to work from, where to hold a meeting or take a call, or whether or not they should work remotely that day.
SafeCount™ Occupancy Monitoring
Monitoring overall building occupancy as well as footfall around individual meeting rooms and high-traffic areas like break rooms, cafeterias and restrooms, will help everyone in the building follow social distancing guidelines and occupancy restrictions. Apart from following regulations, tracking traffic patterns allows for regular sanitisation throughout the building based on the number of entrants to each area.
With a SafeCount™ system installed throughout your building, the sensors can help you optimise your workspaces with employee safety at the forefront.
The sensors collect entrance and exit data and offer audio or visual alerts that you set up so employees can see if it's safe to walk into an area at a glance. The occupancy limits can be customised for each area, so everyone from management, to employees and visitors, can quickly see which areas it is safe to enter and which are not. The anonymous occupancy data can also be stored and accessed within the SafeCount Plus cloud platform so managers and facilities managers can view compliance and analyse data remotely, all whilst keeping employees as safe as possible.
Click below to find out how SafeCount can help you keep employees safe when returning to the workspace.