How does People Counting benefit airports?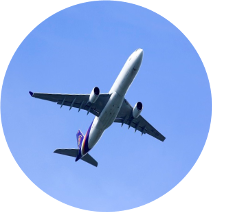 Airports are some of the busiest places in the modern world, so you need the best technology available in order to operate effectively. Irisys' networks of footfall counters and software combine to give you a powerful tool for management and planning.
With airline alliances considering whether to plan around large hubs or smaller local airports, making sure you run as efficiently as possible is more important than ever before.
Monitor passenger traffic flow
Airport queues are the bane of travellers' lives. In an increasingly competitive industry, people will often choose one airport over another because of a better customer experience. With large-scale movements of people in your building throughout the day, it's vital you can also identify areas of congestion to ensure passenger flow is not disrupted. With special thermal cameras that preserve anonymity for everyone that passes by them, you can implement Irisys' systems discretely and effectively.
Identify and manage in real-time
Irisys' systems don't just generate data for evaluation purposes – they can give you real-time numbers helping you respond to dynamic situations to predict problems such as congestion and implement solutions. You can divide your building into specific zones e.g. arrivals, departures, security, retail - for comparison - even down to the level of individual rooms, helping you to manage passenger flow and deploy resources as required.
Maximise the value of your real estate
The rent from retail partners within airports is a valuable source of revenue and one that you can make the most of using good business intelligence. Irisys people counters can recognise patterns in people movements throughout your building, measuring areas of high footfall and the most popular routes, helping you to set realistic rental values for retail tenants. You can also compare the numbers of those passing through the airport to passenger numbers, giving objective evidence of the numbers of extra retail opportunities available.
Deploy your staff effectively
By measuring the usage of different areas of the airport, you can create staff schedules that accurately reflect customer needs, with busier areas receiving more attention than less busy ones. By reducing the time your staff spend where they aren't required and re-deploying them, you can make cost savings and create a better experience for passengers and other airport visitors.