Smart building technology is helping organisations to create more efficient workplaces that are better suited to the needs of employees.
From helping them to understand how facilities and rooms are being used, to effectively regulating heating and cooling systems, smart building technology is revolutionising the modern workplace.
But there is one issue concerning both employees and employers: privacy and anonymity.
If your commercial building is using increasingly sophisticated monitoring systems, how can you ensure the data you're collecting complies with the law and doesn't make your workforce feel as though they're being spied on?
General principles to follow when collecting data
There's a huge amount of data that can be collected from a workplace, whether that's from employee behaviour or working patterns. However, there are some important rules you need to be aware of before you start taking advantage of it:
Respect personal data
Don't collect any personally identifiable information (PII). Always anonymise and/or aggregate PII before storing.
Don't use the technology to police employees
You shouldn't monitor and police specific employee behaviour unless you follow the following three conditions:
There's a clear overriding interest.
Strike a good balance between the employees interest and your interest as the employer.
Make sure you involve your staff in the planning, implementation and operation of the system, as well as storage of the data.
Adhere to the guidelines
You should define some robust internal IT security principles, as well as adhere to national and international guidelines on data privacy, for example GDPR.
Leverage the data you already own
Don't collect what you don't need. It's likely you already possess a certain amount of data, so ensure you're looking at how this can be used first.
Don't lose control of your data
If your data isn't being stored on your physical premises, but rather in the cloud, it could be located thousands of miles away from your office. This makes it more important than ever to know where and how it is stored, and that there are agreements in place with the companies handling the data. You'll also want methods and processes in place that allow for it to be deleted if required.
Decide who can access the data
No one person should have (or needs) access to all of the data you collect. With this in mind, only allocate data access based on clearly defined roles within, or outside of, the organisation.
Be transparent
Continually share the reasons for data collection and the outcomes the data has produced with all relevant company stakeholders.
Be diligent in choosing a monitoring partner
There are a huge number of providers for smart building technology, so it's essential that you do your homework when looking to find the right partner.
What methods not to use
After Barclays introduced a new system for tracking the time employees spent at their desks, sending warnings to those spending too long on breaks, the company faced an employee backlash.
"Managers would never get away with breathing down employee's necks, personally monitoring their screens or logging toilet and water breaks," said Silkie Carlo, director of privacy campaign group Big Brother Watch.
"The availability of technology to [monitor] staff surreptitiously does not make it any more acceptable."
The firm scrapped the technology after a week.
The mistake Barclays made was twofold: first of all, the company was collecting personally identifiable data and, secondly, using that data to police employee behaviour (see key principles one and two above).
We'd recommend avoiding any solutions that collect PII, like that used in this case, or in systems that use facial recognition software.
Methods and technology we recommend
So what smart building technology is out there that adheres to the eight key principles and retains the support of your staff?
True Occupancy by Irisys collects no personal information. Instead, our solution collects highly accurate occupancy data via a ceiling sensor that anonymously detects people as they enter or exit an area.
This anonymised data is securely stored and aggregated in our cloud platform, where we follow privacy guidelines and industry IoT best practices. Users have full access to, and control over, their data. It can also be integrated with other systems, such as intranets to enable employees to see how busy onsite facilities are (eg. gym, restaurant, canteen) or with room booking systems to enable a real time view of available meeting rooms. Sharing data with employees in this way increases transparency and provides them with a real and tangible benefit.
When implementing a True Occupancy solution, you can choose which locations you want to monitor, this makes it both cost effective and infinitely scalable.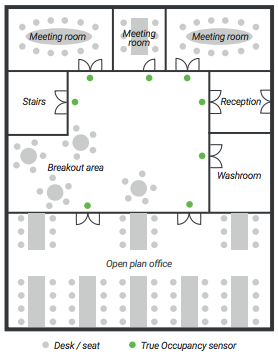 In the example above, it's only taken eight sensors on the ground floor of this building to measure occupancy and utilisation of:
Three meeting rooms
The washroom
Breakout area
Open plan office (with multiple entrances)
Ground floor
Whole building
Washrooms
It goes without saying that washrooms are a particularly sensitive topic when talking about privacy. It is also true that washroom cleanliness is incredibly important.
The TrueOccupancy solution can cater to both of these needs easily.
Anonymous IoT sensors installed outside the washroom can monitor usage, alerting cleaning staff when that usage hits a certain level. This solves two issues:
Employees having to use dirty and unhygienic washrooms when the fixed cleaning schedule has not kept up with use; and
Cleaning staff wasting time visiting washrooms that don't require cleaning due to lack of use.
Ready to benefit from the improved workplace environment and staff efficiency offered by TrueOccupancy, without any of the privacy concerns? Request a demo today.