Intelligent access control Security
Access control systems allow entry to specific areas to be regulated - usually by an individual swiping a card or electronic key to gain access via a turnstile or door. Irisys' high accuracy thermal imaging technology detects individuals by their body heat – adding an extra layer of intelligent security.

Tailgating is easy
Most access control systems cannot control the number of people who enter the secure premises - seriously weakening the integrity of the system. When authorised personnel enter through an access control point, it is easy for a person without a card/key to follow them inside. This is known as tailgating.
Keeping access secure
Banks

Gyms and leisure facilities

Defence and government buildings

Airports and ports

Computer and data centres

Office buildings

Cleanrooms and high security rooms

Schools, universities and colleges

Hotels and accommodation blocks

Airports
Increasing Security at access controlled doors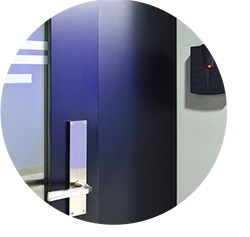 Thermal sensors receive a signal from the access control system for every card/key holder accepted at an access control point; this is then compared with the number of people entering with valid cards. If a person tries to gain access without presenting a valid card/key, a tailgate alarm is raised.
Enhanced Security means better control
Benefits of access control tailgate detection:
Increased security at access control points

Detection of unauthorised entry

Enforces the use of a valid card/key

Monitors compliance with access control policies

Improves roll call accuracy by providing information on number of card holder entries