Irisys thermal imaging sensors are used to provide data intelligence for a number of applications within the security sector such as:
Detection of 'tailgating' at secure access points

Counting the number of people leaving a building in an emergency evacuation situation
Tailgating
Tailgating prevents many access control systems from working effectively, by allowing people to follow authorised cardholders into restricted areas.
Thermal imaging detects people by their body heat and the deployment of thermal technology can significantly strengthen access control security.
Infrared tailgate detectors can be easily integrated with access control systems.
Emergency evacuation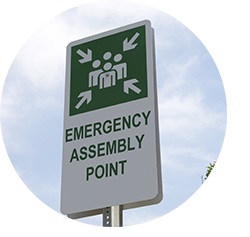 During an emergency evacuation, it is often difficult to ensure that all occupants have vacated a building. This becomes even more problematic in large capacity buildings with multiple muster points. Irisys people counting solutions provide real-time data on the number of people exiting a building.
Evacuation people counters are readily incorporated into building security systems.
Why use smart access control?
Significant increase in access control security

Automated and managed door security

Powerful real-time information for evacuation management

Monitoring capability even in low or no lighting conditions

Accurate data to optimise building use

Integration with building security and access systems