How does Door Counter technology help retailers?
Many retailers are initially skeptical about the value of using electronic door counters to monitor the footfall in their store. But as competition with online stores increases year on year, bricks and mortar retailers need access to the same kinds of customer data that
Retail Analytics: Data-driven Intelligence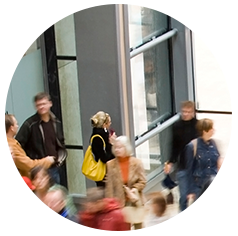 Irisys door counter networks can be used to measure people through different entrances, across or into different areas of a building. Retailers can use this to measure and optimise conversion rates, staff scheduling and the success of marketing campaigns.
Improve the customer experience
Knowing the patterns of customer demand in your stores allows you to more accurately schedule your staff and maintenance services to meet customer needs. It means that you can respond to actual known requirements rather than estimated figures, delivering a better customer experience overall.


Low costs of ownership
With industry leading reliability and a design that requires little maintenance, Irisys people counters have some of the lowest costs of operating of any comparable devices.
Measure the effectiveness of your marketing
Use the footfall measurements into your stores to analyse the effectiveness and return on investment of your marketing campaigns. Now you can get access to the kinds of information that online retailers take for granted in your bricks and mortar stores.