Customers strongly favour locations where they don't have to waste time in queues. Staff deployment is also much more accurate where queue management solutions are employed, leading to major gains in productivity and lower costs.
Retail Queue Management Explained
A retail queue management system works to quantify the demand for service attendants at tills, sales counters and other on-site facilities to ensure that you deploy staff as and when is necessary.
Placing sensors above the checkout enables you to gather real-time data about the number of people waiting and for how long. These smart devices will then initiate alerts to members of staff and help to keep your checkouts running efficiently.
Proven in the world's busiest supermarkets
Irisys' real-time queue management for supermarkets solution is already proven in more than 4,000 of the world's busiest retail environments. This data is used by retailers to drive the measurement and management of service and productivity Key Performance Indicators.
See our Tesco and Raleys QM success stories.
Intelligent technology, expert knowledge
Powered by Irisys' Intelligence Optimised Sensor Technology, our QM system uses discreet infrared sensors at store entrances and checkout lanes, together with complex behavioural algorithms - based on hundreds of thousands of shopper visits - to monitor customer numbers and queuing behaviour, and provide valuable retail data.
Accurate queue management for supermarkets
Automate the capture of accurate queuing data

Calculate in real-time average queue lengths, average wait times, cashier idle times and overall transaction service times

Monitor and predict queues

Predict optimum number of checkouts needed in 15 and 30 minutes to maintain desired service level

Dashboard reporting

Compare performance figures across stores, regions and even worldwide
Advertise your customer service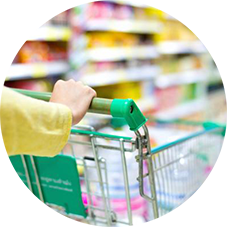 The checkout experience creates a lasting impression and effective queue management helps promote customer loyalty and a positive image for your business.
Wait times can be prominently displayed for customers to see, inside and outside the store. This is really useful at busy times –like lunch breaks - when customers are far more likely to enter an apparently busy store if they know in advance, that they will not have to queue for more than a couple of minutes.
Rapid return on investment
Sir Terry Leahy, previous Chief Executive of Tesco, said that the [Irisys queue management] system was a key factor in the Company's half year pre-tax profits rising ten per cent to over £1 billion.