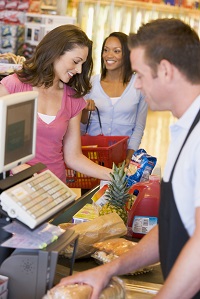 In part 1 of 'Calculating the benefits of a queue management system', we briefly discussed the three most common financial benefits of implementing a queue management system – labor savings, sales increase, cost avoidance. This article further explores ways the Irisys system can help optimize the use of cashier labor and provides a few examples of how our customers have used to the system to do
just that.
The fight for entry-level labor
When profit margins are high and sales are good, efficiency isn't always top of mind.
Right now, traditional grocery stores are facing several challenges that are impacting
their sales and profitability – price deflation, the aggressive growth of discount
grocers (such as Lidl) and the push in most states to raise minimum starting wages, to
name a few. In 2016, three of the top 10 food retailers in the U.S. –Walmart, Costco
and Target - raised their minimum starting wage. Because traditional grocery stores
hire from the same pool of entry-levelworkers, they are competing for these workers.
With US supermarket profit margins between 1-2%, it is difficult for them to compete
on the wage front. Irisys has worked with grocers that are unable to fill cashier
openings with any workers – not to mention quality ones – due to wage competition.
For grocers whose union cashiers are required to pay dues, the competition is even
greater. As labor becomes a larger percentage of operating costs, it becomes
increasingly important that it be used efficiently to help deliver great customer service and drive sales.