McArthurGlen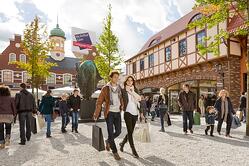 McArthurGlen is Europe's leading owner, developer and manager of designer outlets, operating 21 such sites across eight countries. They opened their designer outlet in Neumünster near Hamburg in 2012. This flagship outlet offers approximately 215,000 square feet of retail space in a prime location, and McArthurGlen were keen to maximise the potential value of this site by utilising solid data on the footfall to fix accurate rents for their tenants and measure the effectiveness of advertising.
Applying an analytics solution to such a challenging outdoor site, with wide open spaces and significant variation in light and temperature levels necessitated expert advice and technology – so McArthurGlen turned to Irisys.
Find out more by downloading our case study.