How does People Counting technology help retailers?
Many retailers are initially skeptical about the value of using electronic door counters to monitor the footfall in their store. But as more and more businesses are discovering, People Counting systems are a must have to ensure your customer experience stands out from the competition.
Electronic Counting: Your ticket to fact-based decision making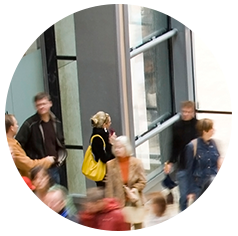 Irisys people counter networks can be used to measure footfall through different entrances, across different floors and even through defined zones of a building. This allows you to set realistic rental rates for all of your tenants and identify the prime locations within your building. Remeber, the counters aren't limited to only doorways! Any public area where you want to measure the numbers and flow of people can be critical to understanding your customers. For example, you can see which departments get the most footfall, which areas of a shopping mall are most popular, or which corridors are most congested.
Create a better customer experience
Electronic door counters mean that you can measure when the most busy times are across different weeks and months. You can see which stores are delivering the best conversion rates and investigate to roll out their methods across your estate. Making sure that you can deliver the best possible to your customers means that you can ultimately improve on conversion rates and increase your profits.

Low costs of ownership
Irisys is the world leading manufacturer of Infrared based electronic door counters, which typically have a much lower power consumption than single, or stereo video devices. Over the lifetime of the device, and expanded out across an estate, potentially including hundreds or even thousands of devices, the savings can be significant.
Ensure the effectiveness of your marketing
Comparing your footfall figures before, during and after marketing campaigns means you can calculate your return on investment and plan your future marketing activities more effectively. You can also measure and predict the impact of seasonal changes and the draw through rate of the anchor stores within the store.