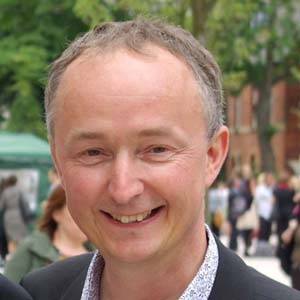 Nick Stogdale joined Irisys in 1998 and currently serves as Divisional Director, Detector Products. Charged with innovating and growing the market for Irisys' industry-leading, thermal-powered People Counting devices, including the premier Gazelle line, Nick specializes in strategic planning, technical support, project management and more.
Nick joined Irisys because he wanted to help drive development and global implementation of thermal detection technology in the retail analytics space.
"Although thermal imaging has a long history of successes, it is in recent years that this technology has become viable for commercial applications," says Nick. "I wanted to be part of a company that constantly seeks to develop excellent people counters through innovative technology. Now, as the Divisional Director of Detector Products, my team and I are looking to revolutionize the industry again with thermal kinetics."
Nick expects thermal kinetics, the newest innovation in thermal intelligence, to lead the next leap in in-store data analytics.
"As brick-and-mortars continue facing online and multi-channel retailing, providing an enhanced shopping experience through customer service is crucial," says Nick. "Analyzing the data generated from People Counting devices in real-time is the foundation to ensuring in-store operations are running at their optimal levels, which, in turn, empowers retailers to create a great shopping experience."
"Thermal kinetics will play a key role in delivering higher levels of customer service and increasing the number of shoppers who buy," Nick continues. "And in response, the technology will continue to evolve to retailers' changing needs."
When he's not developing People Counting devices, Nick's passions include: cycling and getting outdoors, cooking (and eating), reading, watching films and going to the theatre.