NORTHAMPTON, UK, and ATLANTA (Jan. 8, 2015) – The world's top supplier of people counting technology and grocery queue management is expanding its suite of retail-intelligence devices with the launch of Gazelle 2. The new people counter marks yet another milestone for Irisys, which, in 2014, shipped its 300,000th intelligent device, released the new Gazelle intelligent platform and debuted Estate Manager, the industry's first truly robust, fully-scalable, user-friendly software suite.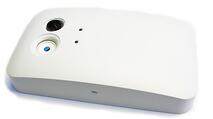 "After yet another banner year for Irisys, the introduction of Gazelle 2 is one of several innovative offerings we are bringing to the retail market in 2015," says Ian Wilcock, general manager of Irisys. "This is our most intelligent device yet and will bring about new levels of data for retailers; new levels of data sophistication for teams that integrate them into proprietary people counting solutions; and new levels of efficiency for those who install and manage estates of devices. We've approached design of this device from a total-user standpoint – and the output reflects the deep thought and careful development we have put into our newest device."
Gazelle 2 utilizes the latest generation thermal detection technology to target customers and deliver accurate counts. Even in environments that can confuse and challenge other types of systems – like low- and no-light scenarios – Gazelle 2 remains a reliable device in quantifying shoppers.
The intelligent device is also designed to play a crucial role in the development of complex retail-intelligence solutions that derive highly actionable data. Features include:
Bluetooth 4.0 module technology integration providing Beacon support and Bluetooth device monitoring to uncover more customer insight;
Bluetooth Smart wireless sensor integration to streamline data distribution;
Single-dashboard reporting;
Wireless setup;
Extensive analytics;
And more.
Gazelle 2 is also compatible with Irisys' Estate Manager enterprise software, which allows for remote set-up, installation, monitoring and management of people-counting devices from virtually anywhere in the world with Internet connectivity.
Irisys' people counting technologies are deployed in the world's leading retailers, and its intelligent queue management solution is utilized in top-tier grocers like Morrisons, Tesco and Kroger. Its vertically integrated business and insourced manufacturing strategy expedites production while enhancing responsiveness and service delivery. For more information and to see the device, visit Irisys at Exhibit #4343 at the NRF Big Show, Jan. 11 – 13, at the Javits Convention Center in New York City.
About Irisys
Irisys is a high-tech innovator pioneering new solutions to bring strategic insight and expanded capabilities to an array of industries worldwide. Combining discreet infrared technology and intelligent software, Irisys technology provides actionable information that can be used to drive operational efficiencies and improve business performance. Delivering faster checkout lines, cleaner facilities, higher-security perimeters, and more, Irisys' solutions are deployed throughout the globe's leading retail operations, publicly and privately owned buildings, airports, security systems, quick-serve restaurants and other facilities. For more information, visit www.irisys.co.uk.