With coronavirus restrictions in place, a number of countries re-opened the retail and hospitality sector following the COVID lockdown. In order to meet these regulations, businesses have put in place measures to maintain social distancing, increase hygiene standards and mitigate the spread of the virus to keep employees and customers safe. These measures vary from country to country, but many include face masks, sanitiser stations and occupancy limits to control capacity.
| | |
| --- | --- |
| Worldwide | United States |
| | |
After the initial rush of trying to comply with measures to simply open, businesses will start looking at how they can improve and adapt what they have in place to increase the sophistication and effectiveness of the solutions going forward. The importance of doing so will come with the fact that, regardless of restrictions easing or COVID-19 case levels dropping, these measures will be here to stay to help prevent further pandemics. Consumers will also want reassurance that health is at the forefront of a brand's priorities.
Of these measures, the solution for controlling capacity to meet changing occupancy limits will be a key area that businesses will want to look to improve first, as an effective solution will be applicable no matter where on the COVID risk alert spectrum your industry or region falls. Helping both restaurants and retail stores, which at this point can open at 25% capacity if they are in a country that has a high-risk alert level, and those which find they can open at 50% or 75% capacity if they are within the low-risk alert level.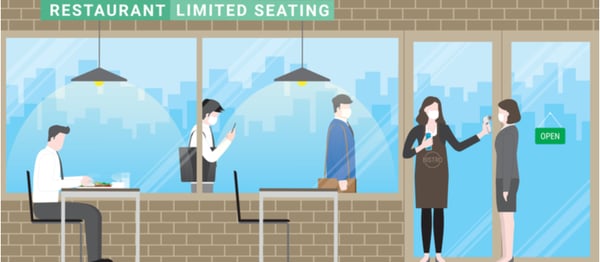 If you are currently using a manual customer counting method such as pen and paper, tally counters and mobile apps, an upgrade to an effective automated customer counting system will provide you with the following benefits that will help you cope with these changing capacity levels:
Customer and employee safety
A recent market research study found that two in three customers are still nervous to leave their homes, even if businesses are allowed to reopen. The same study also shows that customers are worried they are putting in more effort to keep themselves safe than the companies they interact with. Customer counting systems put your customers at ease by making sure they know you are taking steps to keep them and your employees safe. It allows you to comply with social distancing regulations of both high traffic areas, such as bathrooms and the shop floor, while helping you to improve hygiene levels by cleaning based on how much an area has been used.
Accuracy
As stated above, there are different capacity thresholds you have to meet in order to open your restaurant, cafe or retail store. However, using a manual method to help you comply could end up meaning that instead of remaining within the 25% capacity limit, you accidentally hit 35% or even 40% capacity due to errors counting customers. Making sure you choose a customer counting system that is 99.5% accurate, such as SafeCount, means you'll only miss 1 in 200 people.
Scalability
An effective customer counting system monitors multiple entrances and exits so you don't have to close off certain doorways or restrict them for just one purpose. This removes the need for a member of staff to operate the entrances, and it provides a better customer experience, avoiding any inconvenience of having to use specific entrances, especially when your store is large.
Long term ROI
Looking to the future, retail stores and restaurants may be able to open at full capacity again. However, if you have invested in a customer counting system that records historical data you can utilise this beyond just the means of controlling occupancy limits on your premises. You can analyse the data to optimise your building layout and staffing levels, find out your store's conversion rate to monitor performance and improve customer experience.
How can Irisys' customer counting system help you effectively comply with regulations?
SafeCount™ provides business owners and managers with real-time, anonymous and accurate occupancy data that can calculate when a location is approaching or has exceeded a set capacity limit. You are then able to clearly demonstrate to customers it is safe or not safe to enter the premise through visual warnings and audio alerts given when the limits are met.
Managers or owners can easily analyse the occupancy data provided by SafeCount to make necessary changes to adhere to occupancy restrictions and social distancing guidelines, and optimise staff scheduling based on actual customer count.
To find out more about how SafeCount can help your business meet post-COVID-19 regulations by clicking below.