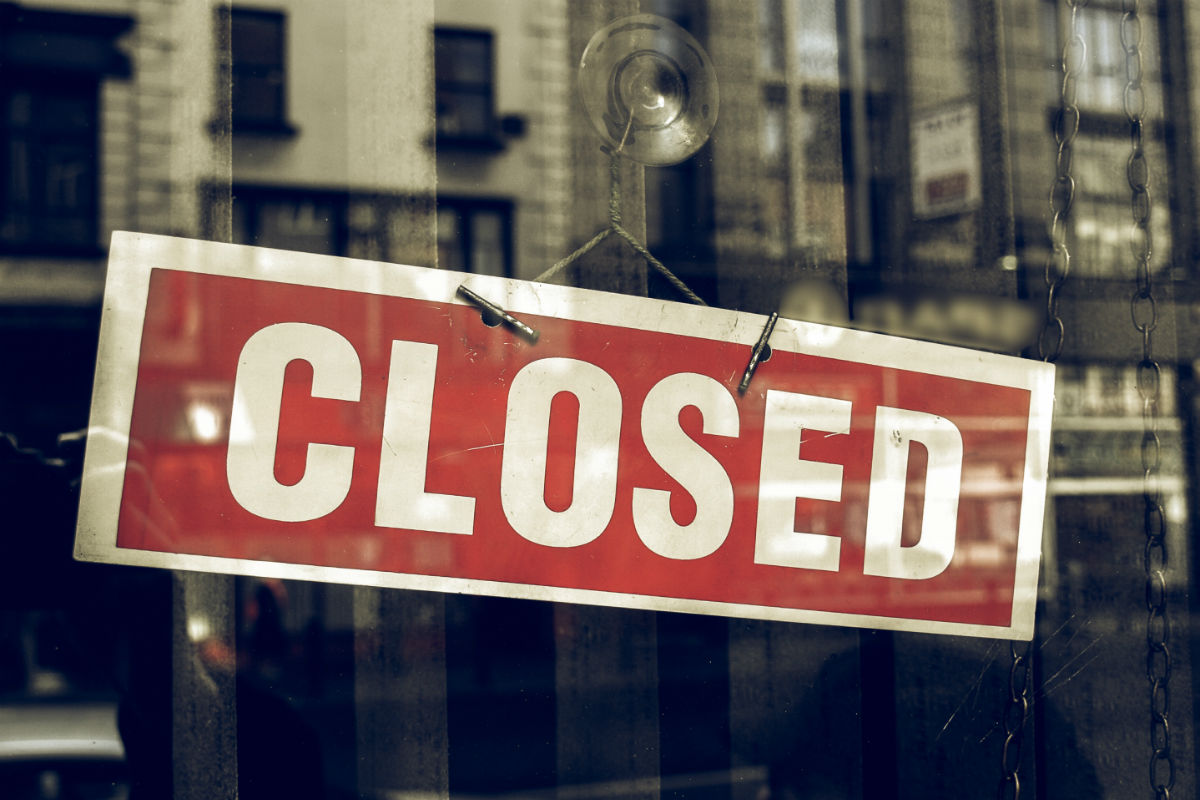 A decade may have passed since the most significant global financial downturn in recent history, but the British high street still bears the scars of a folding economy, with many famous stores permanently shutting their doors and others struggling to hold on.
Rising business rates from local councils, changes to the shopping culture and increasing competition from online stores can also be severely discouraging for shop owners.
Sports Direct's recent acquisition of House of Fraser has seen billionaire Mike Ashley negotiating with landlords in an attempt to secure the 3500 jobs which will be affected if the department store closes some of its branches. So what do you do if you start feeling that it's time to cut your losses and shut up shop for good?
Your business is your pride and joy; deciding to close a store can be heart-breaking for you, your employees and customers. Admittedly, this may sometimes be the most sensible decision, but you need to be sure that it's the right one.
Is your footfall not what it once was?
Many businesses will experience peaks and troughs, particularly as seasonal trends take their toll. Running at a loss is not desirable, but for many businesses, especially at the fledgeling stages, it is inevitable. If you have the resources to weather the storm and adapt your strategies, you can turn this around. Long-term profit loss, however, is not sustainable for any business, making it critical to asses the areas where your strengths and weaknesses lie.
You could be sensing that patronage and interest in your store is diminishing based on the simple 'in' and 'out' people counting analytics many businesses still use. Perhaps you're just not getting the numbers that you once did – a surefire indication of the beginning of the end, right?
The truth is, you could be missing out on some crucial consumer behaviour insight which may help you to understand how visitors are spending their time in-store. This, in turn, could tell you why footfall has decreased.
How can retail analytics help your decision?
Reinvention and forward-looking strategy are required by retailers and shopping centres to thrive and survive in the current climate. Using conventional data is not enough to create a clear picture of what is affecting footfall and conversion ratios in stores.
Many businesses just aren't equipped with the technology to distinguish between walk-ins and conversions. Your people counter may be telling you how many people have entered the premises, but it won't tell you how many walked out with a purchase. Having this information can help you to adjust your strategy and capitalise on browsers by turning them into buyers.
The Irisys Vector 4D people counter will provide you with the following insights:
An accurate view of your busiest and quietest times, allowing you to schedule your employees accordingly and cut down on staff cost.
Demographic data about your visitors by measuring height. Children may not be every retailer's target audience, including them in your footfall may be skewing your reports.
The amount of time visitors spend engaging with displays and promotional exhibits, allowing you to review the effectiveness of your marketing campaigns.
Using Bluetooth and Wi-Fi signals, the Vector 4D can collect anonymous data about the type of customers your shop is attracting.

Invaluable employee identification functionality, ensuring your staff can be removed from your footfall data leading to more accurate reporting.
Retail analytics of this nature can shape how you determine whether there are quick and cost-effective actions you can take to improve your store's profitability, as well as ensure the right visitors are filtering into your premises through the use of targeted marketing campaigns, intuitive store layout and efficient customer service.
Is closure the only option?
Before you make a final decision, you should answer these questions and then assess what efforts you are making to correct the problems that are affecting the profitability of your business.
Have you done a recent audit of your expenses?

Does your staff schedule accommodate peak and quieter times?

Do you have an accurate picture of how many people enter your store?

Do you know where your in-store promotions are falling short?

Are you aware of the strategies your competitors are applying and how that could be impacting the way visitors judge your store?
Using a robust and accurate people counter can change your perspective and highlight the many opportunities your businesses may be letting slip through the cracks.
Making a bad location work

Slow responsiveness to consumer habits is often one of the biggest reasons why brick-and-mortar business experience a steady decline in footfall. Real-time data supplied by a people counter can help you to provide a stand-out service. Providing customers with consistent positive experiences will help retailers to grow their business in almost any location.
It is also worth sharing best practices between different locations. If one store is converting visitors well and one isn't, get together and see if what you're getting right can be replicated where you're getting it wrong. Don't look at each location as individual sites, but as smaller parts of a greater whole.
Ultimately, what matters more than the ideal location is the number of conversions. Knowing why any number of people leave without buying will help you to create the kind of environment that encourages engagement and sales.
Before making a final decision, you should allow yourself the time to conduct a thorough study of all the factors discussed in this post. Gathering information from your Irisys Vector 4D people counter and reshaping your strategies accordingly could help you to modernise your approach to sales, customer service and resource management, helping your store to stay open and serve its customers for years to come.