Franchises have proved to be amongst the most successful business models within the restaurant, supermarket, and salon industries. They provide investors with tried and tested methods to become profitable by offering the support and reassurance that comes with being affiliated with an established brand.
Like all businesses, however, franchises have been affected by the 2020 COVID-19 pandemic. As the economy emerges from lockdown, franchisors have the responsibility to roll out new social distancing plans and communicate them to their franchisees to action in order to protect customers and employees when sites reopen.
Taking measures to facilitate standardised and consistent social distancing procedures across locations will ensure all employees and customers are prioritised in the same way when it comes to health and safety. Without this framework, franchisees may be tempted to implement social distancing measures that don't meet your brand's standards or do not provide a regulated and efficient method of safeguarding occupants.
Unifying your stores will help protect your brand during these uncertain times by helping to build a recognisable and trustworthy image for customers. Research shows that anxiety about the use of public spaces is prevalent, with two in every three consumers feeling nervous about leaving their homes. Retailers and restaurants that take the initiative to offer a superior service when it comes to precautions against contamination are likely to see their customers returning sooner. Demonstrating your commitment to health and safety by investing in the necessary infrastructure and strategies is the first step in welcoming your customers back with confidence.
How to manage occupancy for social distancing in your franchise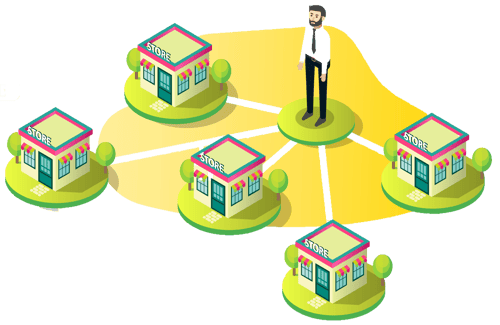 Pre lockdown, peaks in footfall and plenty of customers on-site would have served as very positive indicators. Current events, however, require businesses to lower capacity levels in order to accommodate the new social distancing rules. Customers are now hyper-conscious of their surroundings and will actively seek out vendors who take the necessary precautions. Managing occupancy has never been more critical. As a franchisor, you have multiple sites with multiple entrances and exits, meaning the methods you implement to manage occupancy need to be easily replicable and allow you to have a centralised and scalable procedure.
Monitor entrances and exits of the general building
While you may have tracked incoming customers before, your concerns may primarily have been commercial and operational. With the threat of a new contagious disease irking your customers, however, consistently monitoring occupancy levels is now a crucial activity.
Franchises will have to keep an eye on how many individuals are entering and exiting the premises to ensure that there is always a safe and comfortable amount of distance between visitors and employees. But it's not just exterior entrances and exits that will need your attention. Vicinities such as washrooms and staff areas within your premises will also have to be carefully observed.
Having signs and notifications that warn visitors and employees when a zone has reached capacity will help to prevent overcrowding. You can also take measures to plan your staff rotas so that only a minimum number of workers are on-site at any given time.
Use occupancy and people counting equipment
To ensure you've got a result yielding strategy, the people counting equipment you install will have to offer high levels of accuracy. You'll need access to real-time data that shows you how many people are currently occupying your store or restaurant. If there are errors or delays in the processing of information, you risk allowing too many visitors in and only realising when it's too late.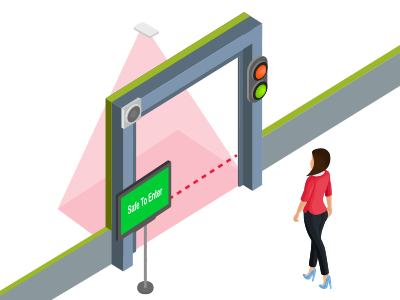 Consider the costs
It's important to point out that manual counting is not an effective solution, and your resources are most likely better invested elsewhere. Paying an individual to monitor exits and entrances is not only costly, but it's also not functional, particularly if your premises has multiple entrances and exits. A sophisticated people counting device will ensure that you have access to precise data at any given time, but don't neglect to look into how your selected technology protects your customers' privacy and anonymity as this will be a significant concern for them.
How SafeCount and SafeCount Plus can help you measure occupancy
The SafeCount occupancy monitoring solution by Irisys offers a scalable solution that can be introduced across all of your branches.
Our industry-leading people sensing technology counts people as they enter and exit your buildings, reporting occupancy data in real time to our SafeCount Plus cloud platform. Franchisors and managers can remotely oversee multiple sites and review performance. Advanced reporting features will help you to assess how each location is complying with occupancy restrictions and quickly identify branches that need intervention.
By gathering data through our SafeCount occupancy sensors, you can gain long term benefits by studying metrics such as the highest footfall and highest value per customer locations so that you can replicate the model or open more branches to cater for demand in that area.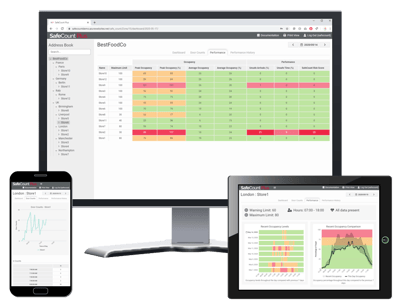 The SafeCount sensor has exceptional features that will enable you to distinguish between customers and staff members without infringing on privacy. The technology is safe and discreet to use outside washrooms which are usually smaller spaces with significantly lower occupancy thresholds. If your building has multiple entrances, SafeCount can monitor each one simultaneously, providing accurate occupancy data that is automatically translated into clear visual and audio cues for customers to follow.
How franchises respond to the crisis will significantly affect not only the survival but also growth potential of these establishments. Companies that take a systematic approach to creating safe environments based on accurate data will continue to foster brand loyalty with their customers as they cautiously resume normal activities.
Find out more about how SafeCount and SafeCount Plus can help you measure occupancy levels to ensure social distancing.