Since the outbreak of the coronavirus pandemic retailers have been working on how to provide safe environments for their customers and employees.
While food retail has been dealing with these challenges from the beginning, non-essential shops have had to adapt to the new normal following the easing of lockdown. This has required the implementation of social distancing measures such as limits on the numbers of people allowed on the premises at any given time, hand sanitiser stations, guard screens, PPE for staff, and more.
As lockdown eases further (the UK's Covid-19 alert level was reduced from four to three on 19th June), organisations may start to think about phasing out these short term solutions - but these measures should not be seen as short term. A second spike is expected in the autumn or winter of this year, if not sooner as more and more people come out of lockdown.
It's also important to note that consumers are still nervous about coronavirus. An Ipsos MORI poll conducted at the start of this month found that many Britons are still uncomfortable with the idea of life going back to normal.
With this in mind, we've looked at some innovative approaches to social distancing, as well as health and safety measures, that your retail business can adopt for the medium-to-long term.
Innovative solutions
What measures should you be adopting to ensure your retail store is able to cope during, and after, the Covid-19 pandemic.
Branded PPE
Many retailers have implemented plexiglass screens and hand sanitiser stations during the pandemic, while shoppers in many countries are required to wear face coverings.
These are essential to ensure your visitors and employees are protected, but why not put your own stamp on them? Branded PPE that your shoppers can take away with them can act as visual marketing for themselves, as well as friends and family.
Also consider investing in branded PPE for your staff. Not only does it look more professional with everyone employee wearing the same equipment, it also demonstrates that you care enough about your staff, and health and hygiene more broadly, to supply them with PPE.
Digital signage
Retailers across the country implemented clear signage in their stores stressing the importance of maintaining a 2 metre distance from others - only for guidance in many countries to later be changed to 1 metre (for example the UK in June 2020).
Digital signage can allow you to quickly and easily adapt to changes in messaging, as well as specific in-store conditions.
Scan-and-go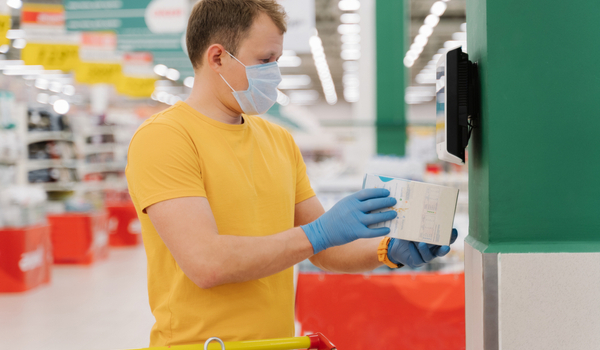 Consider implementing a 'scan-and-go' solution, enabling customers to skip queuing and paying at a checkout, instead paying via their mobile phone. This is a seamless and contactless solution.
Click-and-collect
Some supermarkets already offer this service, but it's something all retailers should consider to reduce in-store footfall and increase sales from consumers still nervous about entering shops.
Cashless payment
The need to socially distance will influence, and likely hasten, the decline of cash payments in stores. Contactless payment will become increasingly important, while the need to avoid contact with surfaces regularly touched by others is paramount. Facilities such as Apple Pay and Android Pay will also become more ubiquitous.
Make sure you notify customers of any changes ahead of time to avoid any confusion at the checkout.
Use appointment apps
For smaller shops, it may be necessary to require customers to secure an appointment before visiting. This could be done simply over the phone or the website, or via a specialist appointment app. These apps can even support virtual queue management to ensure customers don't have to wait in a queue outside of the shop - something that will become increasingly unpopular as we head into winter.
Store layout gravitational path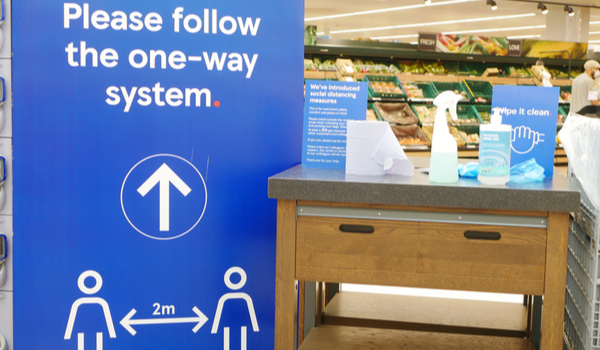 Customer contact can be reduced by implementing a one-way system throughout the store, but this doesn't only have benefits from a social distancing point of view. This also enables you to control the shopper's path through your store, ensuring that they are able to discover all of the products you have on offer, as well as be pushed towards special offers and promotions.
Vibration bracelets
It'll be important to not only ensure customers adhere to social distancing rules, but that your staff do too.
Rombit have developed the Romware Covid Radius, a solution that not only makes social distancing easier, but that also allows for contact tracing.
Whenever two people wearing the bracelets come within 1.5 metres of each other, the Romware Covid Radius vibrates and delivers a visual warning signal to the wearer. There's also the option to set a limit on how many employees occupy an area, alerting managers in real-time when this limit is passed.
Take part in consumer research
As we've already mentioned, consumers are not yet fully comfortable with returning to brick-and-mortar shops.
One way you can demonstrate your health and safety credentials is taking part in consumer research, like Ipsos MORI's Consumer Health & Safety Index. Gain an understanding of what helps your customers feel safe in your stores, compare yourself against competitors and discover effective cross-industry strategies, and confirm that your business is complying with regulations.
Occupancy monitoring is NOT a solution for contact tracing
In the current climate, some occupancy monitoring solutions may market themselves as a solution to both managing footfall and conducting contact tracing on customers.
However, investing in a solution that offers both would be a mistake in the long term.
Privacy and anonymity around occupancy monitoring is a serious issue for consumers, and in a post-Covid world it is going to be important that consumers don't feel their privacy is infringed on by occupancy monitoring that doesn't maintain anonymity.
Occupancy levels
Monitoring occupancy levels for social distancing may be the most pressing issue now, but investing in a smart occupancy monitoring solution that has the ability to offer historical data over a manual solution, will provide long term benefits and ROI.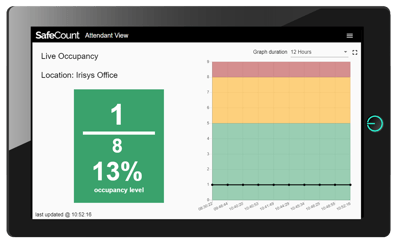 To make effective business decisions you need intelligence you can rely on, and that's what people counting technology used in the SafeCount occupancy monitoring solution can provide. Accurate footfall measurements allow you to:
Calculate your store's conversion ratio
Calculate footfall patterns
Optimise building layout
Optimise staffing levels
Improve customer service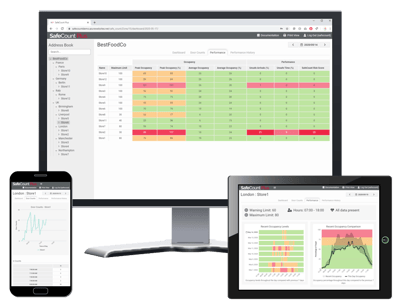 SafeCount is an automated people counting system that will help you to cope with Covid-19 now, but also adapt to the post-Covid-19 world. Find out how SafeCount can help your retail establishment cope in a post COVID-19 world.