Maintaining occupancy limits for social distancing in a commercial setting is a crucial benefit that people counting solutions are providing in the current climate. However, the adoption of this measure not only serves as a crisis plan for a future pandemic or epidemic, but also provides a range of benefits that your business can take advantage of in the long term.
We explore how occupancy data from people counting technology can save costs and optimise space within the retail sector and corporate industry, as well as provide long term ROI as we ease out of measures put in place to help control the spread of COVID-19.
Long term benefits of people counting in retail
Retailers have been adopting people counting sensors to help them comply with government social distancing requirements, but the versatility of the data they collect can deliver the following long term results:
Helping to support the changed attitudes of consumers
Research shows 67% of consumers aren't comfortable with going into a retail store, while 62% of customers will even stop shopping at retailers not taking health and safety measures seriously. This shows that, although measures put in place to control the spread of COVID-19 are officially lifting, consumers will still want to see brands practising them into the future.
Improved shopping experience
Using people counting technology to gain metrics such as dwell time to identify which areas of your store customers spend more time in, or which are bypassed completely, will help you discover what your consumer's journey is around the store and enable you to optimise and tweak how they interact, use and move around through it.
DJ Byrne, owner and manager of Langton Greenhouse and Garden Centre explains how, through witnessing customers heading straight to the cafe and bypassing everything else, she is planning to adapt the use of their SafeCount occupancy monitoring solution. As well as a solution to social distancing, DJ wants to use the data it collects to review the store layout so that her customers experience more of the store.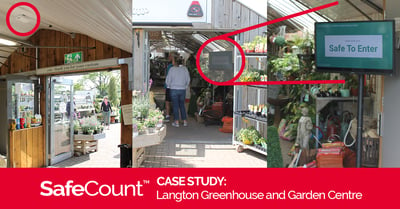 Checkouts are also a big part of a customer's journey, and by capturing data through people counting sensors for a queue management system, you can see how long your queues are at any given point in order to help reduce their waiting time.
Enhanced operational store processes
Identifying footfall patterns offers the potential to optimise staffing costs and efficiency. Analytics shows when and where staff levels can be reduced, for example during quieter periods, or increased to help with the required demand of busier periods.
Holly Dodd, Traffic Manager at The Markets at Anacortes explains how having access to historical data has given them the ability to plan staff resources by being able to see which times of the day their customer count spikes.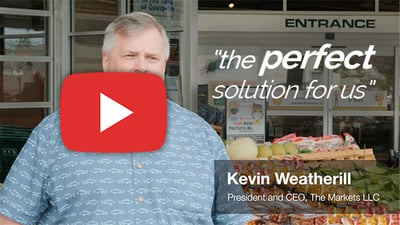 Reporting insights into store performance
People counting data gives you the potential to work out metrics such as your store's value per customer, allowing you to compare performance across a worldwide franchise network and which of your stores produce the highest and lowest conversion ratio.
Long term benefits of the occupancy data in offices and workplaces
Currently, and going forward, offices and workplaces have adopted people counting technology to assist with the requirements of enhanced hygiene and social distancing in order to help protect and make employees feel safe when they are returning back to the office.
Reduced real estate costs
With the continual shift in companies adopting remote working permanently, research shows 49% of businesses are looking to reassess their space needs, while 60% are looking to reduce their office square footage. People counting technology allows you to make this assessment and decide what space can be reduced through understanding your space and building utilisation. The collected data can show you how your space is utilised by building, floor or even on an individual room level.
Improved carbon footprint
Having a HVAC system within the office for improved ventilation for employees, along with implementing systems such as automatic lighting that supports a 'no-touch' approach, will be seen increasingly as a response to helping offices cope with COVID. However, businesses will turn to smart solutions to ensure these energy hungry systems only operate when rooms are occupied.
People counting sensors can direct these systems to turn off when a room is detected as unoccupied, reducing unnecessary energy and amenity costs your business is wasting.
Optimised space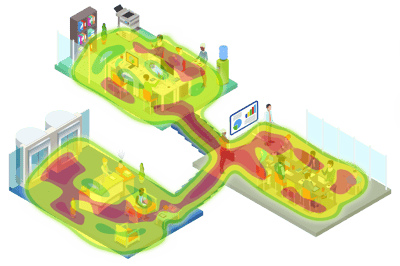 Using people counting data allows you to optimise the space you do have through either progressively filling certain areas of the building to ensure occupancy capacity is utilised to its full potential.
SafeCount is a people counting solution that you can install now to help you cope with COVID-19, but that can be scaled into a more advanced system with more sensors to enable the outlined future benefits. Find out more about SafeCount by clicking below.